The British Virgin Islands are made up four main islands, Jost Van Dyke, Tortola, Virgin Gorda and Anegada over (depending of your definition of an "island"), over 50 smaller islands/keys/rocks/land masses. Only 12 of them are inhabited. So, which one is the best one?
We have been providing Caribbean sailing charters for over 12 years, bringing hundreds of visitors to all of the islands each year. We have asked them that question, which one is best? And, we have watched their faces as they have explored each island while on their sailboat trip.
We took the opinion of those yacht charter vacation guests and sprinkled in our own opinion from our personal trips to come up with the answer.
We considered:
Quality of beaches
Number of nice beaches
Crowds/isolation on those beaches
Beach Bars
Variety of activities
Uniqueness
Overall beauty
Friendliness/character of the residents
The winner of iYachtClub's vote for the best island in the British Virgin Islands is (drumroll) Anegada. The majority of BVI based Caribbean sailing vacations do not make it to Anegada. And, if you are land based, it requires an extra and difficult manner of transportation to get there, as ferries do not run often. But, Anegada is worth the effort. The Anegada beach would rival beaches anywhere in the world. Anegada's beach bars are amoung the best, with 2 of my top 5 beach bars in the BVI being located there. (Cow wreck beach bar is my favorite beach bar in the world). The last time I counted, there were 216 people that called Anegada home, each of them warm, wonderful and charming. And finally, you can stay busy there for a week, with activities like bone fishing, deep sea fishing, chasing pink flamingo, snorkeling, exploring conch shell island, and so much more. For your next Caribbean sailing adventure, please insist that your captain take you to Anegada. It is one of the world's "out of the way" places, that truly is worth the effort.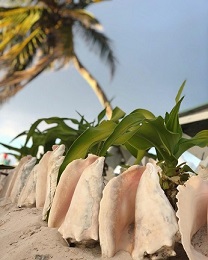 Credit for this article – iYachtClub.com