The best seat in the house
The dining room staff at Virgin Gorda's Bitter End Yacht Club call it table 302. I call it the best seat in the house.
Tucked into a quiet corner at the north end of the Clubhouse restaurant, the teak two-top has become my table of choice for breakfast.
No more than four steps from the water, it offers views of Mosquito Island, Prickly Pear and Saba Rock in the distance, and is perfectly positioned to capture the gentle morning breezes that sweep in from the north.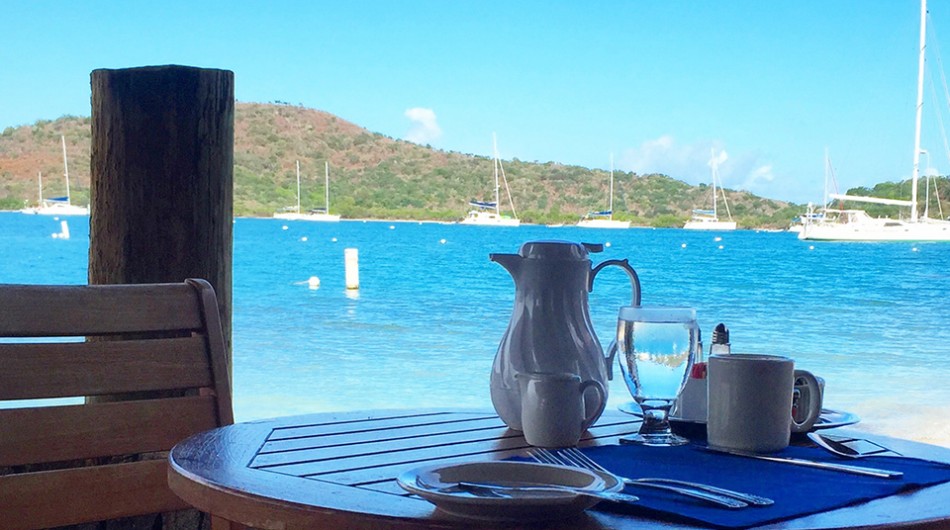 As I slowly sip my coffee I'm roused more by the rhythmic sounds of waves lapping at the freshly raked sand than the caffeine in my cup. I inhale the fresh air with its salty tang and gaze at the flotilla of boats that bob at anchor on the horizon, their sails not yet unfurled.
The murmur of my fellow diners is soft and low, all of us easing into our day and feeling lucky to wake up in this British Virgin Islands paradise.
A couple walks by on the path between the restaurant and the sea, and I see the woman nudge her companion. "Let's try to sit there for breakfast tomorrow," she says.
And I smile. Because it's a wish we both share that only confirms what I already know: This is the best seat in the house.
And, at least for now, it's all mine.
By Sarah Greaves-Gabbadon
CJ Travel Editor
Credit for this Article – The Caribbean Journal