Sailing through the British Virgin Islands on a chartered catamaran is every bit the fantasy journey it sounds like, but here's one surprise I got during my time cruising around Tortola, Virgin Gorda, and Jost Van Dyke on a Moorings charter yacht: the trip can actually be pretty affordable as well as remarkably customizable.
Design your own vacation — in advance, or on the fly
During my most recent BVI trip with Moorings in February 2022, I had a fairly rigid plan to make stops at all the major islands, along with two resorts, Saba Rock and the Bitter End Yacht Club — both beautifully restored and reopened after being heavily damaged by hurricanes in 2017.
On past trips, however, we were more or less able to plot each day's itinerary the night before based on weather, distance, and mood. A stop for snorkeling at The Indians, perhaps, or drinks aboard the legendary party boat Willy T? A nice meal at Pirates Bight, or sampling from the rum bar at Cooper Island? And when do we make the obligatory stop for our Painkillers at the Soggy Dollar on Jost Van Dyke?
Every day can be an adventure of choices — (almost) all of them fun.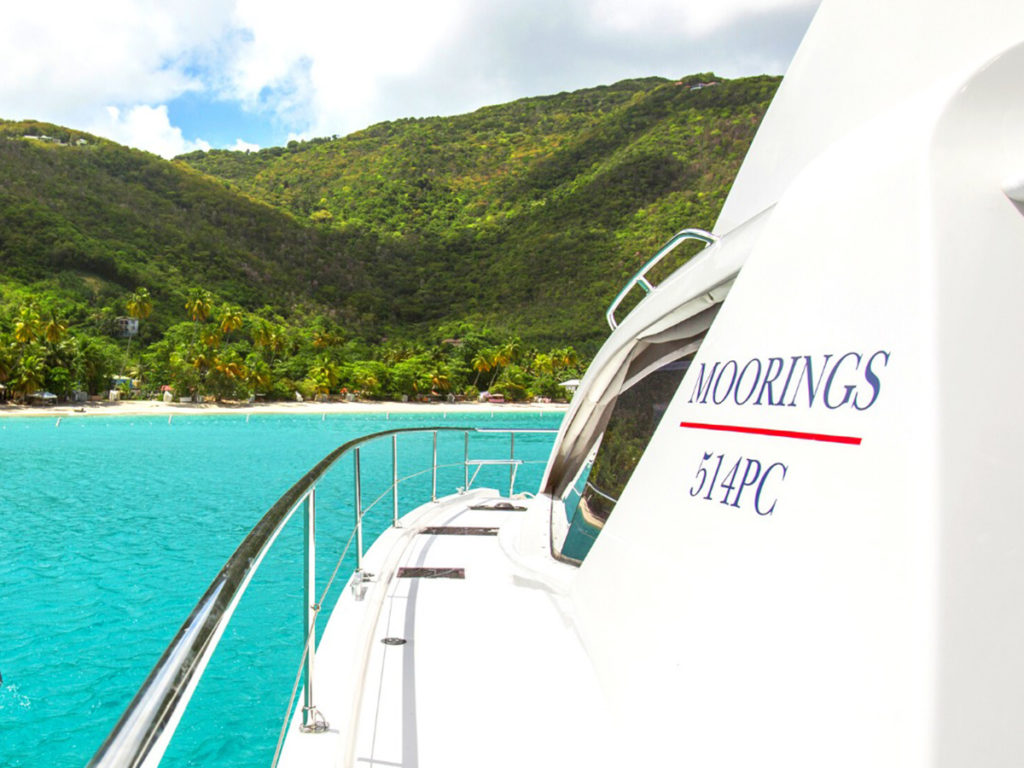 "The beauty of a yacht charter vacation, and especially a charter vacation in the British Virgin Islands, is the flexibility," says Ian Pedersen, senior marketing manager at the Moorings. "The number of islands in the region and the wide variety of picturesque stops to explore allow visitors to craft their own unique schedule and itinerary, and being aboard your very own yacht means you can go anywhere you like, whenever you like."
If you're a first-timer, the range of options can be intimidating. That's why Moorings provides sample itineraries on its website, and employs a staff of vacation planners who can help you iron out the finer details.
Your captain also can be an invaluable planning resource if you're not certain about what to do — and a literal lifesaver when things go a bit sideways.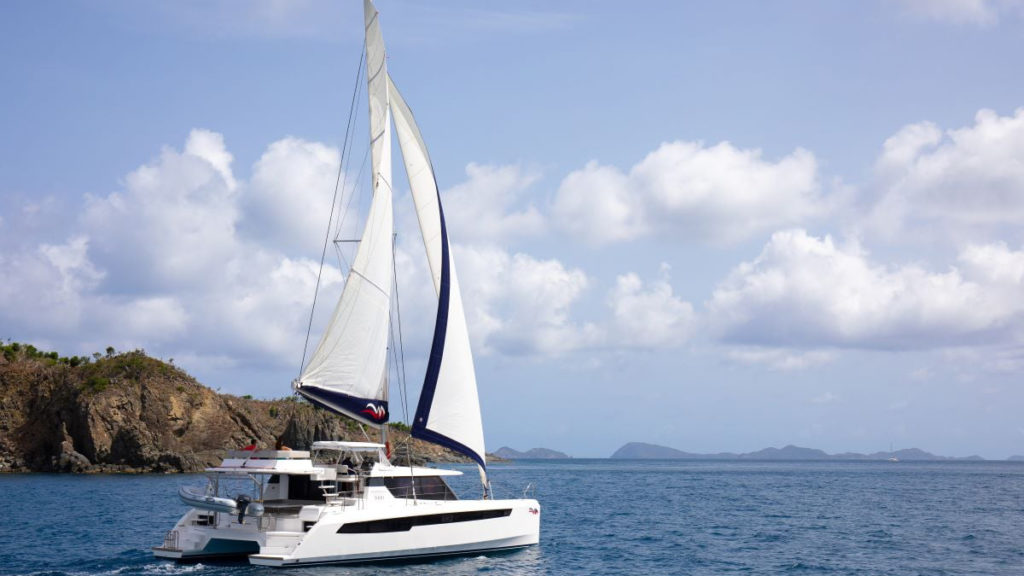 On my 2022 trip, for example, my itinerary called for a dinner stop at Guana Island, one of the top private island resorts in the Caribbean and famous for its natural beauty. On this evening, however, nature wasn't in an accommodating mood.
My captain, Ben Moreton, an affable Brit who came to the BVI after years spent sailing off the coast of Australia, made a valiant effort to get us to Guana against heavy wind and seas, but wisely made the choice to turn back to a safe port. The meal we had together at a beach bar back on Tortola that night might not have been quite as glamorous as a resort dinner, but it made a whole lot more sense. And Guana Island will still be there the next time I go back to the BVI.
"You should always be prepared for conditions to change during your trip and be open to options that are recommended by the captain," advises Moreton. "They will always be looking for the most suitable locations around the conditions that are given. Remember that a boating holiday is unique for many reasons, and one of them being that your environment is always changing. The opportunity to sail on a boat is always a very fortunate position to be in, and you can always look back on the good and difficult times as an experience like no other."
The key to affordability: bring friends
Anyone familiar with traveling by RV can understand the basic premise of your means of transportation also serving as your hotel for the night. And it's every bit as true on the waters of the Caribbean as on a roadtrip on land.
You won't really be spending much time in your cabin other than for sleeping. But the berths are comfortable, and Moorings captains are expert at finding the harbors and moorings with the calmest waters to ensure a good night's sleep. While you're sailing, you're likely going to spend most of your time on deck, but in poor weather the catamarans have spacious cabins to take shelter from the rain.
My February 2022 charter with the Moorings entailed a week on a four-cabin catamaran, called the Moorings 4800. It's a 48-foot sailing catamaran that also can operate under power, available both as a bareboat charter (meaning you're the captain) or crewed with a captain provided by Moorings.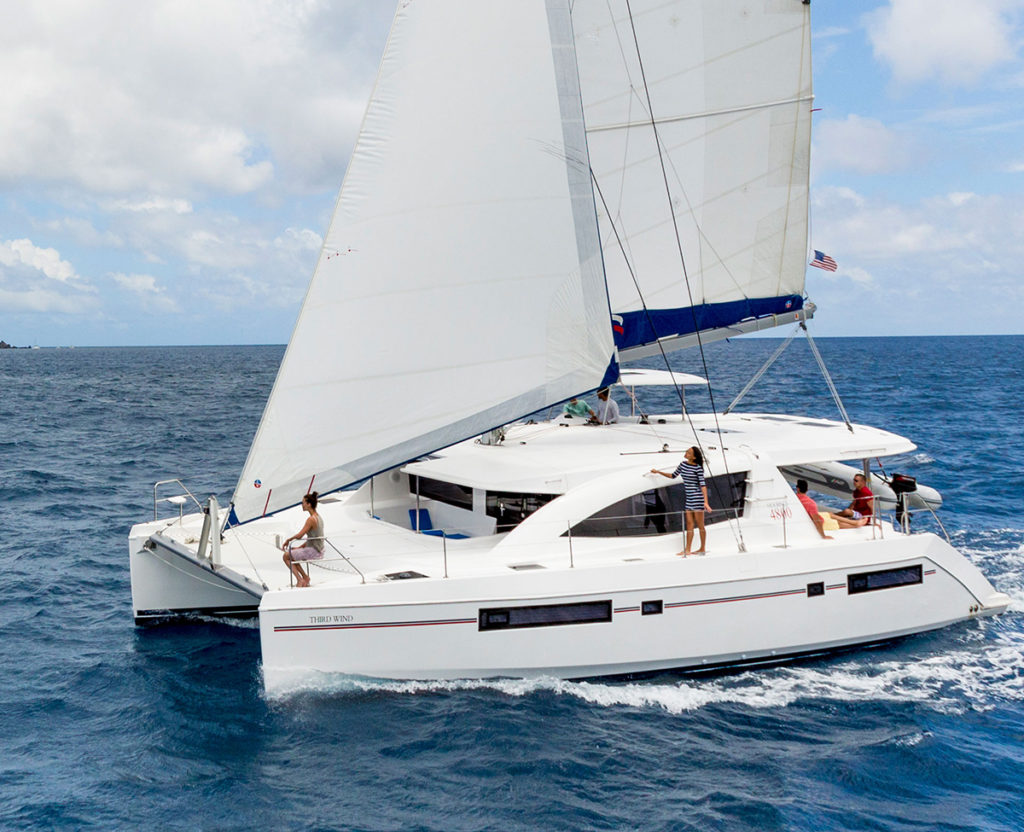 In January 2023, a four-cabin sailing catamaran like the one I chartered in the BVI for 6 nights in starts at $16,000.
However, in low season, like October 2022, the same boat can be had for as little as $9,000 for the week.
An all-inclusive crewed yacht, including the captain, starts at around $17,000 for the week. Monohull boats, also available from Moorings, are slightly more affordable and also available as bareboat or crewed charters.
Don't forget, however, that the costs of a one-week yacht charter include the price of the boat, fuel, and, if you choose, a captain, chef, and food. The latter two are optional if you know how to captain the boat yourself, and provision the boat yourself.
(If you do hire a captain and/or chef, keep in mind when you're calculating costs that a tip is customary for good service — typically 20 percent of the cost of the charter. Trust me, once you see how much work a good captain does during your week at sea, you'll realize the gratuity is well-earned.)
If you aren't a sailor, you can also travel with a friend who is an experienced skipper, as I did on my previous trip to the BVI with Moorings. Sailing with friends who know how to sail also frees up one more cabin to help defray the cost of the charter — you'll be splitting four ways instead of three.
"Because a yacht charter is so flexible and has so many different options available … from bareboat, sail-it-yourself trips to luxury all-inclusive charters with captain and chef, the pricing can vary widely," notes Pedersen. "The industry standard, however, is that the yacht is priced per-day, not per-person. So on a four-cabin sailing yacht costing $15,000 for a 7-day charter, for example, if four couples join together then the cost is roughly $535 per-couple, per-day, roughly the cost of what one might expect at an all-inclusive resort."
The Moorings has a broad network of bases across the Caribbean, meaning you can take this kind of sailing vacation from bases in Antigua, Belize, the BVI, The Bahamas, Grenada, Martinique, Saint Lucia, St Thomas and St Martin.
"The difference, of course, is that aboard a yacht charter you essentially take your hotel room with you anywhere you wish, so the yacht acts as your hotel room, rental car, and daily excursions in one nice, neat package," he says.
Provisioning the boat with food and drink, and making meals for yourself, is another way to keep costs down. Some market items are pricier than stateside, but Moorings is quite reasonable with their markups: a piece of salmon for dinner was $11, but I also paid just $2.50 for a dozen eggs and $13 for a bottle of Mount Gay Eclipse rum.
Either way, you're still paying less for onboard meals and drinks than you would at a restaurant or bar. Well-equipped galleys ensure that you'll eat well whether you just want to boil some water for coffee in the morning or make a full-blown evening meal with friends.
Of course, dining on delicacies like Anegada lobster and other delicious Caribbean food is part of the destination you'll want to experience, but even making your own breakfast, or mixing your own drinks when you're safely tied up at a mooring at the end of the day, can save you quite a bit of money.
And that's just a small part of what you'll have to raise a glass to on a Moorings yacht charter.
For more, visit The Moorings.
Credit for this article – The Caribbean Journal