Visions of a tropical vacation may not immediately spark images of sipping gin and tonics, but a visit to Rosewood Little Dix Bay now convinces otherwise. The beachfront-property in the British Virgin Islands is embracing its roots as an UK overseas territory by collaborating with BVI Gin to produce a proprietary spirit that gives guests a sense of place and heritage.
"The idea of having our very own handcrafted gin made here in the BVI first came up in 2020," explained Maximilian Deickert, resort manager at Rosewood Little Dix Bay. "We were using the original BVI Gin for our cocktails at our restaurant the Sugar Mill since we opened, and we thought that having our own gin, infused with our organically grown and harvested ingredients and distilled in the British Virgin Islands, as a perfect match for our Rosewood 'A Sense of Taste' programming."
A Sense of Taste is a global initiative at Rosewood properties to "invite guests to embark on extraordinary culinary experiences that create authentic connections with each locale," according to Rosewood. These experiences are nestled under three pillars: Epicurean Experiences like salmon or trout fishing in Georgia; Partners in Provenance like relying on indigenous agriculture in San Miguel de Allende; and Bespoke Dining, like Little Dix Bay's partnership with BVI Gin. "We love being able to surprise our guests with a locally inspired cocktail program, that is as evolved and sophisticated as those you can in cities like New York or Miami, and goes beyond what one might typically expect from the region," emphasized Deickert.
he amenity started out as a special offering for long term growth but has since heavily influenced the drinks menu throughout the property. Deickert assures, though, that for guests seeking other spirits, rum is used as the main ingredient in cocktails at the Pavilion and tequila is the star at the Reef House. "Our guests expect not only classic cocktails and new creations based on the latest mixology trends, but also, they like to have variety throughout their stay," explained Deickert on the decision to theme each bar.
He shares more about the ever-evolving bar program below, including the exclusive partnership with BVI Gin and what exactly makes their version of the spirit so unique.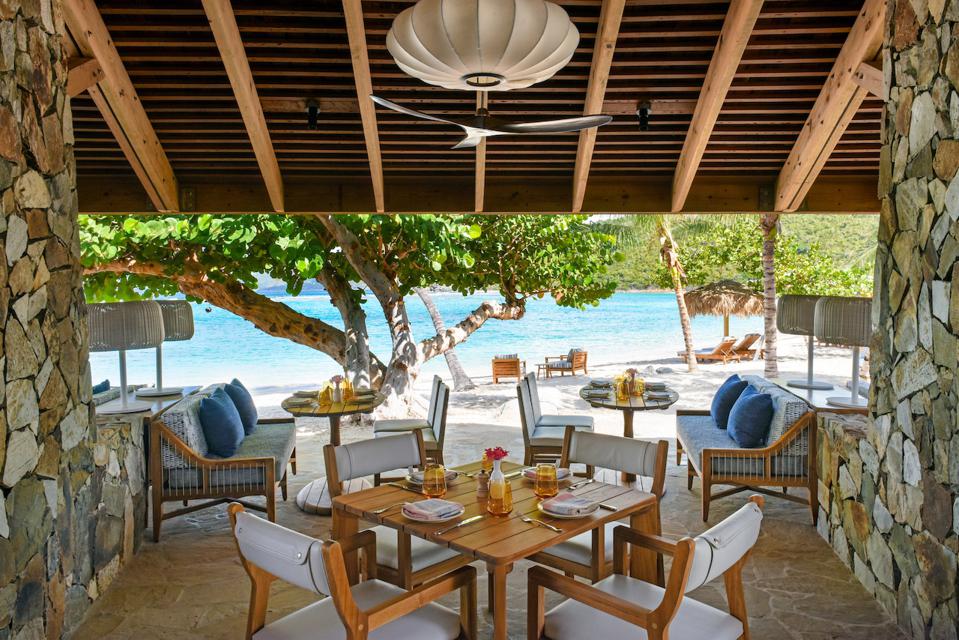 Jillian Dara: Why did you choose gin as the spirit of choice?
Maximilian Deickert: To have this type of amenity in a region which is very well known for rum was a big surprise for our guests, however, the story ties in so well with the British influence in the territory. To use gin is an incredibly versatile spirit—the possibilities when creating gin cocktails and long drinks are endless, and now, having the house gin adds another dimension to the guest experience.
Dara: What about the gin is most unique to the property?
Deickert: With the gin we are using our own organically grown and harvested rosemary and thyme fresh from our on-property farm to achieve a very unique flavor. These herbs and the other selected ingredients led us to have a gin which you can drink on the rocks or with a dry tonic-water for a refreshing treat.
Dara: Will there be various ways for guests to have an experience with the gin?
Deickert: We serve the Little Dix Bay-Gin in each of our in-room personal bars so that every guest has the possibility of enjoying the gin in their suite and of course in the cocktail creations for the Sugar Mill restaurant. Our actual beverage program has a rum tasting and a tequila tasting already on offer which we want to extend by also offering a gin tasting. This gin tasting is especially unique as it has an added element which includes visiting BVI Gin's Tortola based distillery, so guests get to see the behind-the-scenes inspiration and creation process.
Dara: Who did you work with to launch the gin and how did you decide on these key partners?
Deickert: Our relationship with the founders of the BVI gin goes back to 2019, [when] I read their story in a BVI based magazine and was very intrigued that they were making a gin here. We said that we have to be part of their success, and challenging Rosewood's 'A Sense of Place' philosophy, we were inspired to bring something very special to our guests who already like handcrafted and locally made beverages. The first meeting with Matthew Neal, founder of the Little Bay Distilling Company, was during the closure of the resort in 2019 and after 15 minutes, it was clear to both of us that we had the same thoughts and vision to create a great gin.
Dara: How has the amenity or offering evolved since launching?
Deickert: We started slowly by offering our gin as an amenity for our long-stay and special guests in their personal bar. After a couple of days, we asked if they tried the gin and the feedback was overwhelming. Most of them didn't expect to have this kind of flavor profile and quality here in the Caribbean. We are hoping to have our gin in every Rosewood bar around the world eventually.
Dara: Why do you think it's so important to offer this type of amenity for your guests?
Deickert: Our guests are well traveled and have been to other Rosewood properties around the world. Every Rosewood property has its own character and soul and we are very proud to showcase the uniqueness in everything we do and especially by this gin.
Credit for this Article – Jillian Dara – Forbes