Set on the picturesque island of Frenchman's Cay, this recently constructed, pristine example of rarely available waterfront property has been built to offer uncompromising luxury and seclusion to satisfy the most discerning of clients. Indio Landing commands the approaches to the sheltered harbour of West End, favoured harbour of Edward Teach and other famous buccaneers who abounded in the Caribbean. Today a point of entry and the chosen haven of mega yachts, the harbour features restaurants, boutiques and delicatessens together with marina and private docking facilites, all within easy distance of this fabulous home. From top to bottom, Indigo Landing is finished to the highest of standards with attention paid to every detail. From the grand living room, with its elevated ceilings and breathtaking views out over the spacious, covered main terrace, to the sumptuous master bedroom and bathroom suites (not just 'his and hers' showers but 'his and hers' full bathrooms), every detail has been considered. Technically, the house is perfect. The discreetly concealed utilities include full air conditioning with seperate compressor and control for each room including the laundry, central vacuuming system, oversized water storage capacity and distribution system, super silenced oversized generator capable of powering the whole home for several weeks, and complete storm protection.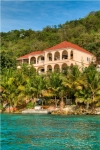 The home was built originally for Peter Jennings, the journalist and regular visitor to BVI. He unfortunately passed away before completion. This treasure is now available for the most discriminating buyer.
Visit our Coldwell Banker Listing page for a full description, and ask for a Listing brochure by email.