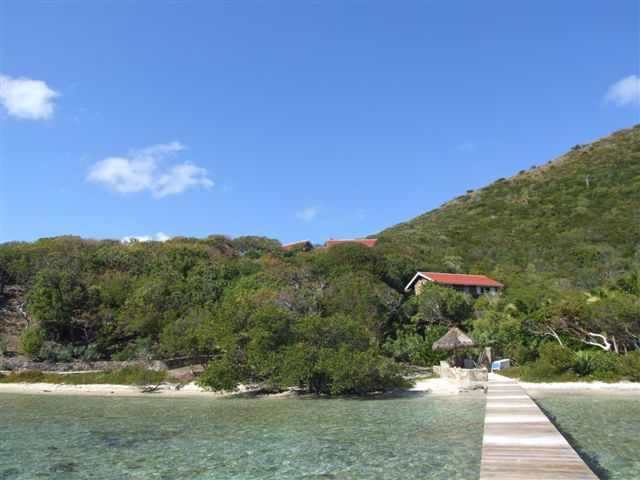 This spectacular oceanfront estate home, set on 10 acres in Privateer's Bay on the island of Great Camanoe, is full of charm and character. Built with no expense spared in the late 1960s for Dr. Updike Lite of the Upjohn Pharmaceutical family, it has been loved and cared for by the current owners. Both the main and guest house are built almost entirely from local stone, and positioned in such a way that the ocean and island views from both are simply breath taking. The main house consists of three bedrooms and bathrooms, a kitchen, and Great Room which leads on to a large covered terrace. The cottage features one bedroom and bath, lounge, kitchenette, and outdoor shower. The private swim dock, 120′ long, is just enough to get you beyond beautiful 'Diamond Reef' into swimmable waters. The property includes two workshops and a studio, two generators, bathrooms for staff, a desalination plant capable of producing 2000 gallons of water a day and over 100,000 gallons of cistern. Installing a pool if necessary therefore would pose no problem. Wheeled transport includes a classic 1974 Land Rover; 1993 Subaru Van; and a 2008 Yahama large tire Golf Cart. Floating transport includes a 26′ Glacier Bay power catamaran with twin Honda engines, a 17′ Whaler with a 50hp 4 stroke Evinrude and a 1/2 share in a 17′ Whaler work boat with a 70hp 2 stroke Evinrude. The property is being sold furnished.
Own this 1,000′ of oceanfront in the British Virgin Islands and create your own private retreat. Asking $6,000,000.
Visit our Coldwell Banker Listing page for more photos and details.