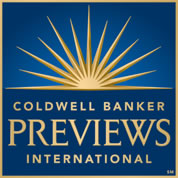 Dedicated Luxury Listings
The Previews® program was founded in 1933 by Henderson Talbot, a young entrepreneur who was one of the first to market real estatbeyond his local area. He specialized exclusively in marketing fine properties nationally and internationally, which allowed Talbot to place these luxury properties in front of the clientele who could afford this type of home.
Acquired by Coldwell Banker Real Estate Corporation in 1980, this luxury home marketing program continues to build its success through the Coldwell Banker Previews International® program. Through the Previews® program, Coldwell Banker has represented an impressive array of the world's most fabulous real estate.
Exceptional properties require exceptional marketing, and through the Coldwell Banker Previews International® program, we have the tools to assist you in buying or selling your luxury property. Currently, we handle an average of one hundred and fifty three million dollars in luxury home sales every day.*
---
* Data based on closed and recorded transaction sides of homes sold for one million dollars or more as reported by affiliates in the COLDWELL BANKER® franchise system for the calendar year 2005.